Registration is

required

for everyone attending
except for non-Lion family members of Hall of Fame Honorees
or opportunities for Youth Contestants attending just that specific event.
---
The Friendliest Cities in America | Travel + Leisure
No. 1 – San Antonio, TX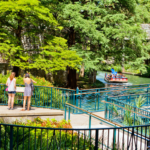 As perhaps no surprise, the top 20 winners for hospitable locals tended to score well in user-friendly categories like affordability and walkability. These same places also tended to be smaller cities with gold stars for warm, sunny weather—an equation that would leave a lasting impression with anyone, local or visitor.
Smaller cities weren't the only ones that had people talking this year. Plenty of larger population centers in the survey transcended the harsh, big-city stereotypes. San Antonio is truly a big city with a small town feel. Maybe it's just all of the amazing tacos we get to enjoy, but at the end of day, it's easy to make new friends in this town. No matter what you're looking for—warm weather, friendly faces, easily navigated city centers—this year's friendliest places are well-worth considering for your next domestic adventure.
America's Favorite Cities | Travel + Leisure
No. 2 – San Antonio, TX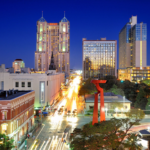 History, friendly locals, and an all-you-can-eat attitude made readers love this Texas city for more than just the Alamo. One of the city's hot zones continues to be the Pearl, the former brewery that has turned into a complex of restaurants and bars. You can even sleep there, too, thanks to the 146-room Hotel Emma, named after the woman who ran Pearl for decades (and during Prohibition). Don't miss the chance to eat some of the city's best carnivore fare, like The Granary, where the brisket, sausage and ribs are served "market-style" with white bread and pickles.

Best U.S. Cities for Affordable Getaways | Travel + Leisure
No. 3 – San Antonio, TX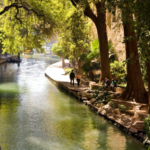 The Texas city inched two spots closer to No. 1 this year and ranked near the top for its free attractions—such as all five of the city's historic missions, including the Alamo. The city has become more eco-friendly. Along the Mission Reach section of the Riverwalk, a 15-mile stretch of urban ecosystem restoration, you can rent bicycles (through B-Cycles) for $10 a day. Voters preferred San Antonio during cooler months, particularly around Christmas, when the city is full of luminarias and one of the holiday's best cheap eats, tamales.